Sitecore is a global software company offering two major products: a powerful CMS; and a fully-adaptive Digital Marketing System.
Sitecore is one of the leading enterprise-level content management systems built on ASP.NET, enabling web content editors and marketers to have full control over all aspects of their website from social integration and blog posts to advanced personalisation, fully-customisable role-based system, ecommerce and more.
With Sitecore, you cannot just manage content. You can also test, optimize, personalize, and automate your content—allowing you to deliver the right message, to the right person, at the right time.
For your customers, Sitecore gives them what they want to see, before they even know they want to see it. Most of the Domain is using the Sitecore platform like financial services, HealthCare, Childcare, Automobile, Insurance, Transportation, Public Sector, Real Estate, Non-profit organization etc.. 
Sitecore Provide too many functionalities compare to other CMS.
Below are the main feature that Sitecore provides.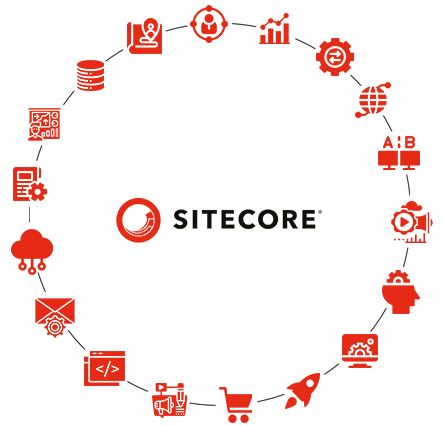 Contant Management - To manage the content, assets, Users , Roles etc.
Personalization / Personalized Customer Data - Personalized customer data is the powerful feature behind Sitecore. Every single customer interaction, behavior, and data point is captured and stored, giving your team the insights, they need to deepen engagement and increase returns.
Sitecore Experience Database - It is storing all user's interaction data and behaviours.
You are able to see a collective view of each user's journey - down to the individual level.
Sitecore Experince Profile - Xdb collect user's data, Sitecore XP create a profile of each user. These profile data is richer based on time wise because includes where they live, what they click, how much time they spend on website and how time they spend on individual page.
Analytics - It's include wase engagement for analytics like page wise, path wise , region wise, devices wise , campagain , goal etc.
Sitecore XConnect - Sitecore xConnect APIs enable your developers to sync and gather data between Sitecore and nearly any other system you may be using for marketing or sales, like Salesforce or Microsoft Dynamics 365.
Multi Language Support - Sitecore Support multi-language translation. We can easily create multi-language website and content editor or author easily manage content in CMS.
A/B Testing - Poring over your customer data is sure to spark some ideas for how you can improve your site. Test them before you go full hog with A/B and multivariate testing. Sitecore's testing, goal tracking, and path analysis tools pinpoint precisely where your content and traffic sources are over- or under-performing.
Marketing Automation - Marketing is not easy part for any organization. But using Sitecore marketing automation campaign and goat. Sitecore will automatically react to customer actions with your desired behaviour, and serving the content based on user behaviour.
Sitecore Federated Experience Manager (FXM) - If you are using another CMS apart from Sitecore, you can use this feature to give your customer seamless experience access your network of site. It will track your user analytics and interaction data.
Headless CMS - Headless CMS architecture separates back-end content functions (like creation, management, and storage) from front-end functions (like presentation and delivery). Frontend website we can use any platform like View.js, React, Angular.
Sitecore Experience Accelerator - Sitecore Experience Accelerator (SXA) is used by Web development teams to speed up the website's development process and reuse components, layouts, and templates for various sites. Sitecore SXA splits development from design, so that the front-end designers, creative designers, content authors, and developers can work parallelly, while you deploy and maintain multiple sites quickly and cost-effectively
Commerce - Sitecore provides commerce solution for B2B, B2C. It has great interface for admin user to manage catalogue, inventory, Order, Promotion etc.
Content Hub - It is a marketing tool that gives users the ability to manage the entire content lifecycle in one place. Content lifecycle management is the process of planning, creating, strategizing, optimizing, distributing, and measuring content throughout its lifetime in an organization 
Docker / Container - Docker is the open-source software which is used to run software development, software testing, software deployment etc. on containers in an isolated, lightweight and virtualized environment. Onboard New Developers Faster to Sitecore Project.
Email Experience Manager - Use the Email Experience Manager (EXM) to create highly customizable email campaigns and make them both personal and relevant to your customers. Create and manage email campaign. Manage your suppression list and your list of domains. View detailed analytics reports for your sent email campaigns.
Order Cloud - With Sitecore Order Cloud, design your own commerce solution with as API-first, headless cloud platform for B2B, B2C and B2X. Order Cloud powers custom ecommerce experiences, order management, and B2B marketplace application for some of the world's most well-known brands.
These many functionalities or features Sitecore provides. Many more feature and functionalities their which are not listed here. So, we can say Sitecore provide more feature and flexibility to use the functionality.  Sitecore has more flexible so we can customize the functionality at any level.
These many functionalities or feature are not provided any other CMS.
Current Research showing that Sitecore brand reputation and customer trust are increasing day by day.
Many giant organisation/company are already using Sitecore to strong their market position through engaging, personalised website content.
What you can expect from the best Sitecore implementation partner
Based on the trust and value out of Sitecore, the required implementation partner whom you can trust to deliver your setup, implementation on the given time frame and is budget friendly. Addact is partners with the experience more than 7+ years of experience in Sitecore cms, tech supports, and development.
Let's connect with the best Sitecore development company.
Interested in how we can help you to move forward with Sitecore? Contact now