With the rise of advanced technology, we have become quite aware of Omnichannel commerce platforms. It has emerged as a real-time sales platform where multiple channels are used. In a simple way, we can mention that Omnichannel is perfect coordination and cooperation between different channels. It creates a great platform where various organizations worldwide can make perfect interactions with the consumers.
To enhance better interactions with the customers, it is necessary to count on the following areas.
Sitecore commerce omnichannel
It is necessary to familiarize yourself with ever-changing market trends.
Buyers should get a seamless shopping experience both online and offline.
All we need to know is how to manage complex business operations.
Understanding various marketing strategies.
The Omnichannel platform has been designed to create a seamless platform for both physical stores and websites. Unfortunately, many get confused with the two terms, multichannel and omnichannel. So, at first, it is necessary to go through the differences between Omnichannel and Multichannel. Sitecore OrderCloud grab the new way of Digital Commerce providing Omnichannel management across the channels
What do we understand about Multichannel?
Multichannel is a strategy where a product is present in varied numbers of channels. Multichannel is a platform where different types of promotional and distribution channels work together in the field of marketing. The distribution channels include storefront or various websites, and every multichannel marketing system is required to get supported by an advanced supply chain management system.
Multichannel marketing is also supported with the help of an elaborate analysis of return on investment. Multichannel marketing comes with the benefit of better management in sales and marketing. This technology comes with huge revenues and a better understanding of the customers.
What do we understand about Omnichannel?
In this era, experiencing the technicalities of Omnichannel marketing is extremely helpful for every business organization. Omnichannel creates a seamless platform for the customers and can enjoy online shopping. With the help of this advanced technology, it has become possible to carry on shopping via mobile, laptops.
Benefits of OmniChannel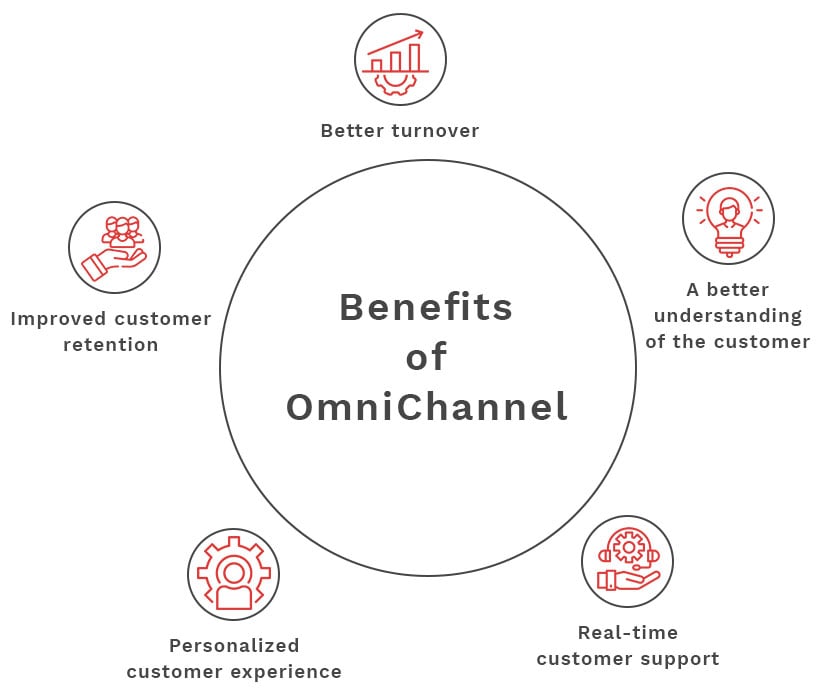 Omnichannel has become quite popular in recent days, and it is necessary to understand the benefits of this technology.
Improved customer retention- Omnichannel comes with advanced strategies, and it offers to improve customer retention. No doubt, omnichannel offers customers to buy their product in the most convenient ways, and it will offer customers a better online shopping experience.
Better turnover- Developing business with Omnichannel helps you in experiencing enhanced turnover. It links your business with a higher rate of customer retention, and hence it becomes easy to enhance turnover.
A better understanding of the customer- Opting for Omnichannel strategy will help every business organization to understand their customers. The more customers will get engaged with the channels of your business, the higher will be the chances of client satisfaction. Customers will always expect to get the best service from your end, and their demand will help you keep your system advanced and meet their expectations.
Real-time customer support- As per research, it has been noticed that almost 64% of customers will get real-time customer support with the help of Omnichannel.
Personalized customer experience- Every company wants to satisfy its customers by offering the best product to them. Opting for Omnichannel is one of the best strategies to understand what your customers want. This will give you the best way to personalize your customer experience.
Exclusive Omnichannel strategies that you never ignore
Before you opt for a Sitecore Omnichannel marketing strategy, all you need to do is audit your present marketing strategy. This will enable you to check whether the present strategy is good for you or not. Sitecore has made it possible to benefit you with satisfactory marketing trends using Omnichannel. The projected marketing trend by 2025 will be $5.9 billion.
The prime strategy of Omnichannel customers is to understand your customer. Omnichannel will let you know to understand the age, gender, or the location of the customers, but you will come to know about the preferences of every customer. Sitecore Omnichannel strategies make it easy to know the customers' behavior. Using Sitecore there is a good opportunity to enhance the number of users by 4.9 Billion by 2025.
Segmentation of audiences plays a vital role in enhancing customer satisfaction, and it gives you a better understanding of your customer behavior. Omnichannel makes it easy for you to make a perfect segmentation of your buyers based on different criteria.
Content personalization for every channel is also one of the most significant criteria that every channel. This technology seems a great way to drive more traffic to your channels.
Factors to consider before implementing Sitecore commerce omnichannel
Sitecore seems to be the best platform to keep your business ahead of the competition. As per Accenture, all you need is to adopt agility and adaptability to stay ahead of the competitive market. Let's check the factors to consider before implementing Omnichannel in the Sitecore platform.
Factor - 1
The first factor to consider before you implement Omnichannel on the Sitecore platform is to understand your customer. With the growth of social media, it has become easy for you to make a better connection with customers.
Factor - 2
While opting for implementing omnichannel on the Sitecore commerce platform means you are moving toward a more advanced path, and here all you need to check first is the payment options you offer. Customers at present days use various payment options, and they want to make payments via credit cards, debit cards, and cash payments. At present, almost 80% of customers love to use electronic payment options, and hence here you need to opt for updated payment methods.
Factor - 3
In this era of advanced technology, the smartphone has emerged as one of the most effective Omnichannel devices. It has become a necessity nowadays and a prime device for customers to do online shopping. Hence, you need to make the necessary advancements in this field.
Factor - 4
Cross-border shopping has gained huge popularity worldwide, and before implementing Omnichannel, it is necessary to opt for cross-border payment incorporation. It is necessary to implement the best methodology to enhance the cross-border payment system.
Factor - 5
While you are willing to go with Sitecore Omnichannel Marketing, you need to check details about customer service and customer management that are already maintained in your business. Moreover, Omnichannel includes lots of devices like social media, smartphones, emails, etc, and hence you need to take care of implementing advanced methodology so that your business can get better growth.
Factor - 6
While opting for a Sitecore omnichannel strategy, it is also necessary to take the necessary security measures to protect the customers' data and information. Hence, cross-channel security measures are required to be implemented.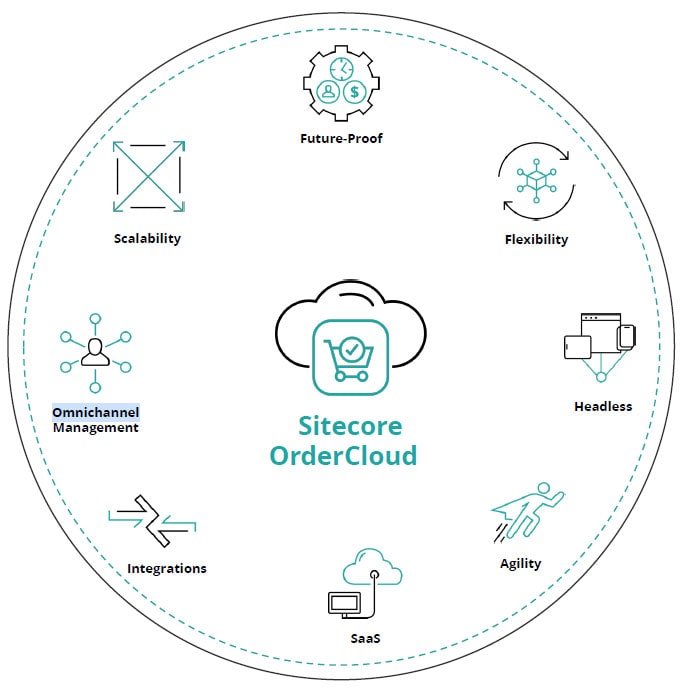 Sitecore OrderCloud is Composable Commerce Solution for scalability, customizability, extensibility, and agility
Bring all this together to realize any business model possible with Sitecore Ordercloud. Headless and API-first, it enables you build different commerce experiences without compromising your company's IT infrastructure.
While others offer simple "set-it-and-forget-it" solutions, Sitecore offers a customizable ecommerce platform that will grow with you as your business grows.
Sitecore OrderCloud embrace the new way of Digital Commerce
Future-proof commerce strategies
Flexible, scalable commerce platform
Omnichannel management across channels
Strengthened agility for any unforeseen demands and events
Integrations with Sitecore Products and 3rd party tools
Available in SaaS