A website is usually a front point for initial customer interaction and introduction for most companies. Users may visit a new website in search for information on products, services and data provided by the company. Websites can be very broadly categorized into two:
Static Website: A static website is meant to display certain fixed information contained in a limited number of webpages. The content in a Static Website is generally limited and unchanged. A static site is usually written in plain HTML and what is in the code of the page is what is displayed to the user.
Dynamic Website: A dynamic site is one that is written using a server-side scripting language such as PHP, ASP or JSP. In such a site the content is called in by the scripting language from other files or from a database depending on actions taken by the user. A dynamic website has organized content that the users can access according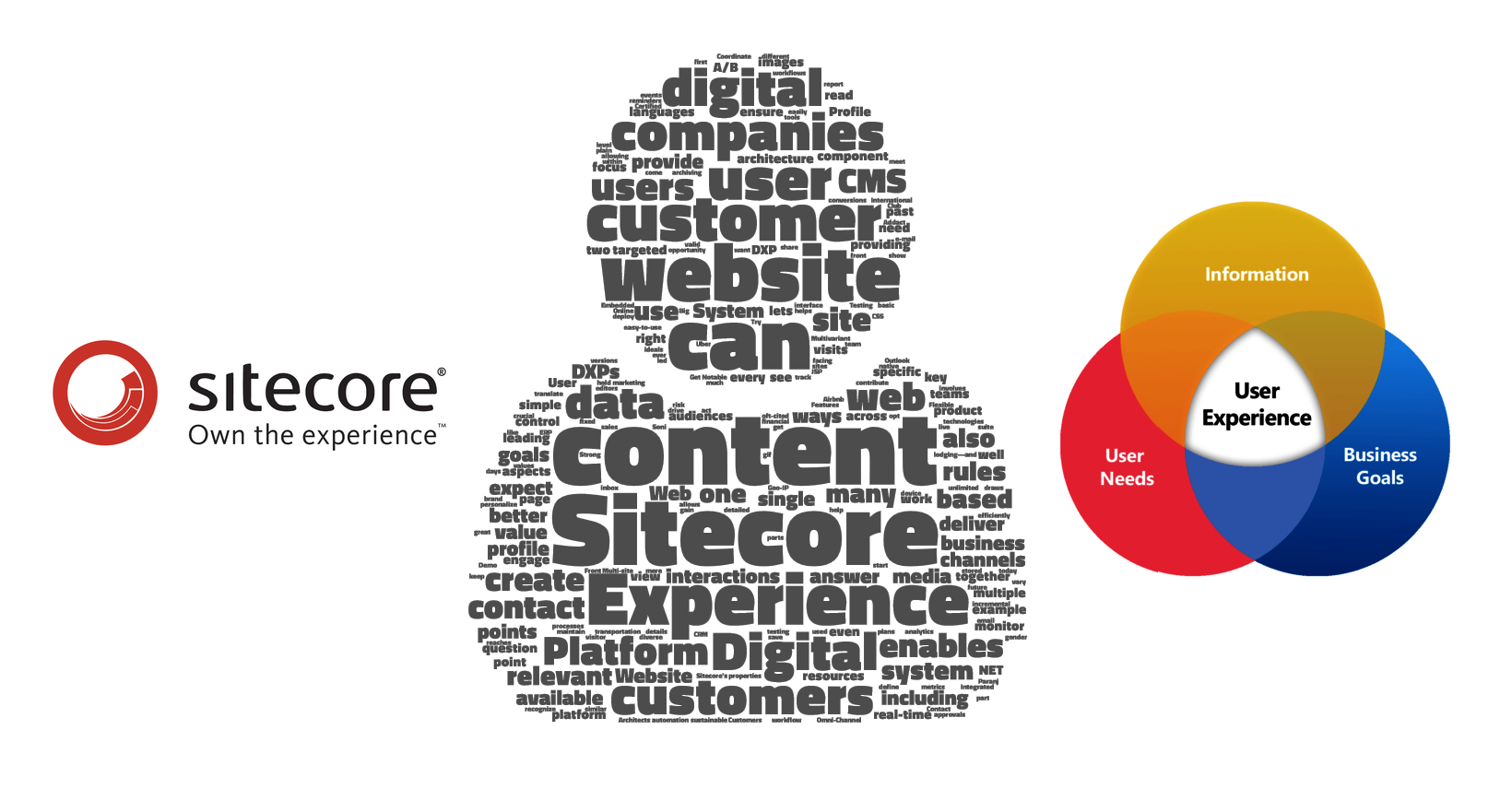 Sitecore : Elevate User Experience
With a company growing from a mere startup/small scale industry to an enterprise or conglomerate, the services, products or data available on their website must increase (sometimes exponentially). For a user to navigate through all this information on a website, just to find relevant content, becomes very cumbersome very quickly. Additionally, a company at scale must engage serious resources in order to manage/change/edit/organize and analyze content that's been live on their site available to millions of visitors regularly.
Taking your users on a journey to provide them relevant information along with subtly exposing them to other similar content that they didn't even know they were interested in is a strategy that's been taking a strong hold these days. The experience that a user has on their journey while on a website, defines two very important aspects: User Retention and User Conversion. These aspects further define the popularity of the purpose that a website is meant to serve. So the question is, how to give your users a customized experience?
There is a simple answer: CMS or Content Management System.
CMS – Content Management System
A Content Management System manages the creation and modification of digital content. It typically supports multiple users in a collaborative environment.
Instead of building your own system for creating web pages, storing images, and other functions, the content management system handles all that basic infrastructure for you so that you can focus on more forward-facing parts of your website.
Modern websites make use of HTML, CSS, JavaScript and images (jpeg, gif, png) to create web content for visitors to read. At the core of every CMS is the ability to organize these resources and generate valid content that can be read by web browsers. More advanced websites have interactive components (comment sections, forums, e-commerce) that requires server software to validate and save user submitted content.
CMS features vary widely. They are widely used for either enterprise content management or web content management. Most CMSs include Web-based publishing, format management, history editing and version control, indexing, search, and retrieval. By their nature, content management systems support the separation of content and presentation.
So again, the question arises, among the many CMSes available to choose from, which one should I opt?
Again, there is a simple answer: Sitecore
Sitecore is the leading Content Management System
The Sitecore content management system is recognized as the leading system for enterprise level businesses. Sitecore was positioned as a 'leader' in 2019 Magic Quadrant for Web Content Management by Gartner. Global Organizations use Sitecore's key product: Digital Experience Platform, to create seamless and personalized digital experiences for its users. It is an integrated software powered by .NET CMS with Commerce and Digital Marketing tools.
Digital Experience Platform
A Digital Experience Platform (DXP) is a software platform that enables you to build and deliver integrated, optimized user experiences across all digital channels, all audiences (though with the customer at the center), and all stages of the user / customer life-cycle.
Digital Experience Platform (DXP) is an emerging category of enterprise software seeking to meet the needs of companies undergoing digital transformation, with the ultimate goal of providing better customer experiences. DXPs can be a single product but are often a suite of products that work together. DXPs provide an architecture for companies to digitize business operations, deliver connected customer experiences, and gather actionable customer insight.
DXPs Try to Solve a Big Problem: Customer Obsession
A confluence of factors has led many companies to start radically re-engineering their business practices to be extremely customer-oriented:
Digital Channels (web, mobile, and social media) have become the dominant ways customers interact with companies.
Those customers expect great experiences like Google, Apple, and Facebook.
Social media in particular, provides unstructured ways for customers to engage with and influence public sentiment for companies.
Mobile devices provide location and immediacy, giving companies more ways to keep in touch with customers.
Digital Marketing is making it possible to target an audience segment of one person with a highly personalized experience.
Digital Technology makes it possible for upstarts to disrupt traditional industries: Wealth Front for wealth management, Lending Club for financial products, and the oft-cited Uber and Airbnb in transportation and lodging—and all deliver a much better customer experience.
As you can see, digital technologies contribute both to the risk and the opportunity (digital transformation) companies are facing.
Digital Experience Platform
Flexible workflow:With Sitecore you control approvals, incremental publishing, notifications and reminders, archiving capabilities and Outlook inbox notifications. Strong workflows ensure your content is the best it can be.
Integrated Marketing Suite: Sitecore's Online Marketing Suite provides you with detailed user insight, including Geo-IP and website experience information that helps drive conversions. With Sitecore you can create profiles, personalize content, track and act on your analytics.
Multi-site deployment: Sitecore architecture enables you to manage and deploy an unlimited number of sites that can share content, code and processes, allowing you to efficiently manage your Sitecore web properties.
International ideals: Sitecore allows editors to work in their native languages, providing multilingual capabilities based on diverse user audiences. Coordinate versions of your site in other languages and easily translate content.
Embedded A/B Testing: The easy-to-use interface enables marketing and business users to A/B and Multivariant testing, natively within each page, email, image, and component you create.
Contextual Personalization
Sitecore lets you display targeted and relevant content to your contacts based on their characteristics and behavior, such as location, gender, or previous visits. With personalization, you can ensure that the right content reaches the right contacts, for example, you can implement rules that show personalized content to visitors based on their browsing behavior and their accumulated profile values. These are called personalization rules or conditional renderings.
You can create personalization rules that are based on many different criteria, including goals, campaigns, engagement value points, profile value points, and engagement plans. Your website responds to personalization rules in real-time by showing specific content, by hiding content, or by adjusting the behavior of a component.
Experience Profiling
For marketers who want to leverage data and gain a 360-degree view of their customers, Sitecore Experience Profiles are the answer they need, bringing together all the past customer interactions from all digital channels – including real-time data.
The Experience Profile lets you monitor the behavior of contacts that have interacted with your company or with your website. You can identify current as well as future customers from their very first point of contact, even if they have not provided a name. It also enables you and your sales teams to monitor the key areas of customer experience and interaction, such as visits, campaigns, goals, profiles, automation, outcomes, and keywords. For example, for each contact, you can see at a glance which events and goals they have triggered as well as how many engagement value points they have accumulated on your website.
You can use the Experience Profile to focus on the accumulated experience of a single contact and view the details of all their interactions and experiences with your organization.
Experience profile is part of Sitecore Experience Platform (XP) and draws from the Sitecore Experience Database (also in Sitecore XP included) for information on how customers interact with your digital channels. The information is stored in a holistic summary for each individual visitor. It also integrates data from other systems to help you get to know your visitors better than traditional Web, e-mail, social media, and mobile metrics.
Supports the personalization and targeted approach of customers
Real-time data in a single directory
Get a general loyalty report by customer, campaign, or across multiple multichannel campaigns.
Integration of data from CRM, ERP and other systems/li>
Sitecore focuses on an approach that involves an Omni-Channel automation for sustainable customer loyalty. Customers today expect you to recognize them when they come into contact with your brand – regardless of which channel or device. They also expect you to remember past interactions and maintain the conversation between each channel. That's why, more than ever, you need a networked platform that enables you to build a coherent, consistent, cross-channel relationship, delivering more relevant, contextual content to every contact.
Sitecore has countless functionalities and finding the best way to use them for your specific needs is crucial. The dedicated team at Addact Technologies is one of the most capable teams with 15+ .NET Developers, 8+ Sitecore Certified Developers, Project Architects, Consultants and Designers. Contact at info@addact.net. for a Sitecore Demo.
Let us have coffee together and discuss your requirement for Sitecore. Mail us at info@addact.net.