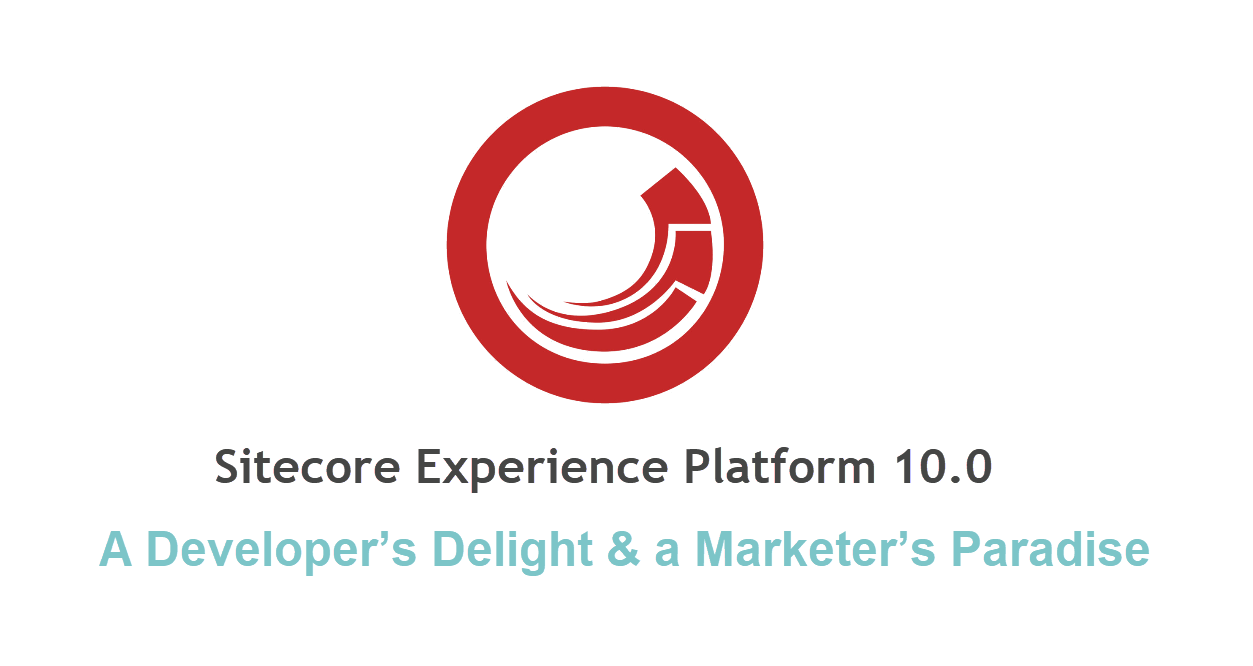 With Sitecore Experience Platform 9 and Sitecore Experience Commerce 9, Sitecore had managed to shed every last bit of the legacy code and had completely embraced the new .Net Core technology. Sitecore is an enterprise itself and with Sitecore Experience Platform 10 release, it seems they have initiated the execution of their planned path towards their next big milestone, Sitecore as a SaaS.
While all the updates provided in Sitecore Experience Platform 10 are majorly based on Sitecore's extensive market research and customer feedback, the update also seems a fair advancement towards SaaS. To help you better understand the update, the blog is divided into two parts where the first part highlights the Sitecore Experience Platform as Developer's Delight and the second as Marketer's Paradise.
Sitecore Experience Platform 10 – a Developer's Delight:
The need of the hour especially with Enterprises that has a continuous development model and an innovation center to run is quick, continuous and cost-effective development and deployment. Sitecore understood this need and has focused all their updates on the same!
Sitecore embracing DevOps completely with Sitecore Containers:

To provide continuous delivery and continuous integration to the developers, the biggest update in Sitecore Experience Platform 10 is the Sitecore Containers. To ensure that Sitecore Certified Developers can integrate a continuous delivery model, Sitecore now allows developers to deploy infrastructure as codes! Not only will make deployment faster, with image repositories and code containers, teams can provide continuous deployment.

Shift from development frameworks to SDK:

While Sitecore Containers empower developers with quick deployment, Sitecore's inclusion of ASP.NET Core SDK ensures quick development. By combining all the essential software development tools in one installable package, Sitecore now allows developers to embrace the headless rendering of host architecture and empowers them with faster development iterations.

Sitecore CLI and Visual Studio:

While the SDK helps quick development and Containers ensure quick deployment of images and code repositories, Sitecore CLI and Visual Studio ensures quick deployment of content changes. With Sitecore CLI and Visual Studio, developers can easily test content in different environments and deploy content scripts with headless serialization.

Sitecore Experience Platform 10- a Marketer's Paradise:

The above updates empower Sitecore Developers to deliver quick, continuous and dynamic Sitecore Experience Platform Development and Integration Services. The following updates now display how Sitecore Experience Platform 10 empowers Marketers and Decision-makers to empower their digital platforms and their enterprise with refined Personalization, effective data management and increased lead conversion with improved Marketing Automation.

Sitecore XP 10 Updates that ensure refined Personalization:

Audience Analytics Filters:

Sitecore is the market leader in terms of Personalization and they have been continuously working on delivering better personalization capabilities to marketers. In Sitecore Experience Platform 10, they have better improved their customer engagement and segmentation with improved audience analytics filters providing marketers an opportunity to get deeper customer insights.

Horizon Editing:

Marketers can now update the User Interface easily to get better insights on multisite and multilingual experiences.

Sitecore XP 10 updates that ensure effective Data Management:

CMP Integration:

Increased support in CMP integration with Sitecore XP 10 that allows better taxonomy associations.

Salesforce Marketing Cloud Integrations:

Better updates that provide new capabilities to markers by integrating Salesforce cloud plans in Sitecore XP Journey Builder.

GDPR compliance:

To allow enterprises to better comply with the new GDPR, Sitecore now provides more consent options along with the anonymity of personal information that is submitted via Sitecore Forms.

Sitecore XP 10 updates that ensure improved marketing automation:

Sitecore XP 10 now enables marketers to run automated Birthday Campaigns.
Additional Email Templates for quicker creation and delivery of emails to targeted customers.

Parting Words:

This Sitecore Update is essential for those who are looking to stay ahead of the competitive curve. Especially in these challenging and unprecedented times when not only are people embracing digitalization and digital transformation but are also investing in their Digital Ecosystem as the future of business is now based on the virtual world and automation.

If you wish to gain a competitive edge in the market and want to ensure that you create a Future Proof brand that provides delightful digital experiences to your customers, upgrade to Sitecore Experience Platform 10. And if you are looking for a perfect Sitecore Implementation Partner that has the relevant Domain Understanding along with required Technical Expertise, connect with Addact Technologies today.