Today, the customers are very selective and demanding. Especially when you have an already established brand that customers like. They want you to be able to seamlessly identify their devices and mediums and channels. Businesses who have traditional CMS might not succeed in delivering this. With Sitecore headless CMS, you can meet your customers' expectations. First of all, let us understand what it is!
What is Sitecore Headless CMS?
Many of you might not be familiar with the Headless Sitecore CMS. When it comes to a website, or a platform, there are three elements, Front-end, Back-end, and APIs. In laymen terms, the Headless CMS Sitecore offers is such that it allows you to modify, edit, or make changes to the back-end without any disturbance to the Front-end.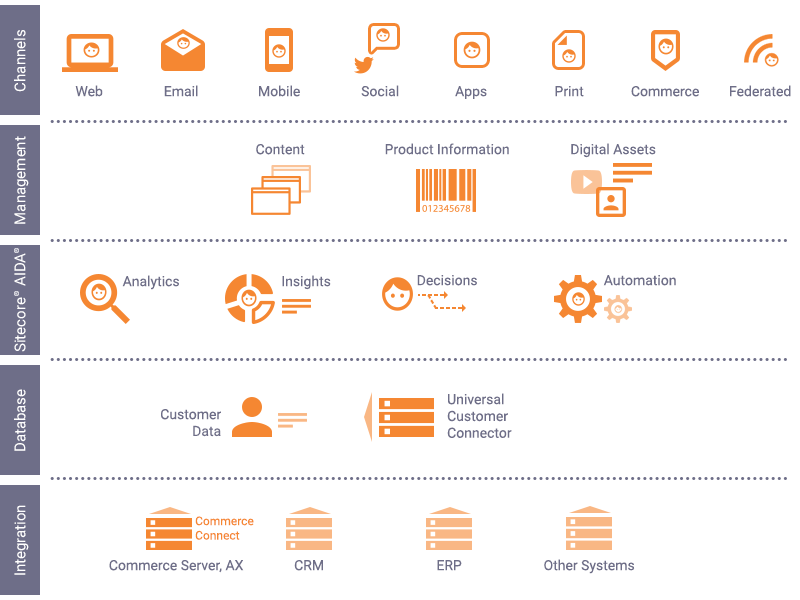 Let's say you want to integrate your eCommerce platform using Sitecore Headless CMS, you can do that without worrying about any changes to the front-end. This is to make sure your customers do not see any changes and are presented with the same platform and brand that they have been trusting for so long. This is also one of the benefits you get when you go for Sitecore OrderCloud.
Also, by using the Sitecore Headless CMS, you can get many benefits such as:
Get access to a wider talent pool
When you go for headless integrations, you can use just about any development frameworks for your platform. It also gives you reigns to hire from a wider pool of talent for your front-end and it does not necessarily have to be Sitecore developers. The main advantage is that you can easily and quickly recruit and retain as well as decrease your costs, which is ultimately a good thing for your business.
Get analytics and offer personalization
When you have the Sitecore headless CMS, you can also avail yourself of the Sitecore digital marketing and data analysis features such as Sitecore Discover that will help you with your marketing. There is a built in API that will allow you to align personalization with the headless environment. Your front-end team does not require any experience of Sitecore and any development framework that allows you to interact with these APIs can help you get the maximum value of Sitecore Headless CMS.
Create an omnichannel presence
When you go headless, it means you can push content using one of the tools Sitecore Send across different touchpoints and environments creating an omnichannel presence for your business. You can have multiple websites, apps, social media channels and have a presence everywhere together. You can provide content very easily using just one single CMS.
More scalability and flexibility
By going headless, a lot of complexities are made simple for your front-end. You can use the cheaper and easier JavaScript Framework with less dependencies. Your infrastructure and data storage costs are reduced at the front-end. When it comes to configuring and launching your presentation, you get extreme flexibility and you get scalability in terms of launching new sites and pushing content across different channels.
Day-to-day management becomes easier
Choosing headless CMS means also reducing the daily effort for everybody, especially marketing teams, as they can focus now more on the design, SEO, and content part rather than also having to manage Sitecore. Your developers can be more agile and also work on different, multiple projects without worrying about juggling the preparation work.
Now that we have mentioned some major benefits of Sitecore CMS, let us take a detailed look at how it will benefit your marketing team: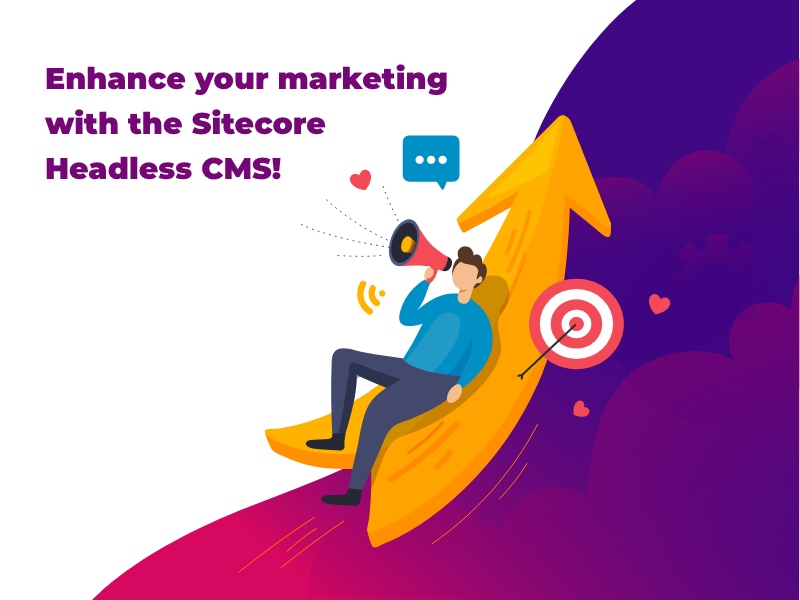 Omnichannel Marketing
Now marketing managers, content creators and anyone in marketing get the flexibility to create content once and push it across channels and various media platforms and devices. The major advantage here is the flexibility and the scalability which allows quicker integration with multiple platforms. The distribution also becomes smooth and thus, you can focus on collecting relevant customer data through multiple touchpoints.
Content Delivery
Sitecore offers you Sitecore Experience Edge which is a headless content delivery platform. It allows your content creators to rapidly create content and push it through powerful APIs without causing any architectural complications.
Fewer technical dependencies
As mentioned before, marketers no longer need to focus on managing Sitecore and they can now focus on the main marketing tasks and responsibilities related to design, SEO, and content. They will have minimal technical involvement and they can develop pages without relying on developers. This means faster time to market for your eCommerce business.
Hybrid in nature
Headless CMS means the front-end and the back-end are both completely independent. If you have to revamp your website, you can do that effortlessly without changing the back-end structure. Also similarly, if you are required to make any changes or modify the back-end, you can also do that without causing any disturbances to the front-end.
Cost-effectiveness
There is no requirement for a larger team when considering Sitecore headless CMS. Technical specialists are needed yes, but fewer compared to when working with a traditional CMS. This means the costs and expenses of development are reduced.
Hence, whenever you plan to launch or revamp your eCommerce platform, you must go for the Sitecore Headless CMS. It is apt for marketing campaigns, for personalization and providing interactive digital experiences to your customers.