We are all familiar with the popular saying that "Knowledge is wealth." But today it has changed. Today,
"Data is wealth."
"Data is power."
"Data is everything."
Customer data is powerful and vital for businesses, especially for B2C and eCommerce businesses. The choices and preferences of the customers, their searches, their buying process, their decision-making process, their favorite products and services, all of this data is vital for product/service offerings and for creating a personalized experience for the customers. This is where the Customer Data Platform comes in.
What is a Customer Data Platform?
A Customer Data Platform is a software or a platform that helps you collect and uniformize customer data from multiple sources. It then helps you build a simplified, categorized and structured view of the data for you to analyze.
In laymen terms, a Customer Data Platform (CDP) creates a very comprehensive database that you can access through different systems for analyzing, tracking, and managing customer interactions.
Customer Data Platforms started emerging due to the increasing demand for an improvised customer experience. Pre-existing data silos were preventing businesses from productively using the data that they had. A Customer Data Platform helps you form a 360-degree view to get better visibility into the evolving customer buying patterns.
You can create effective campaigns based on a holistic view of the customer profiles and drive revenues, loyalty, and customer retention. Using a Customer Data Platform, you can have real-time as well as historical data of your entire customer base.
Evolution of Customer Data Platforms
Customer Data Platforms only recently, in the past few years started garnering a lot of attention from industry professionals, especially those in marketing. Earlier, CDPs used to feature automated data processes such as data collection, data aggregation, and data cleaning. But, users with limited skills in technology also wanted self-service tools to be able to use the CDPs. The emerging CDPs were a boon and at the same time needed to be self-serving in order for those who were not skilled in tech to be able to gain valuable insights.
CDPs then evolved with many tools that included analytics tools with automated data preparation based on predefined use cases and business scenarios. Today, CDPs are AI-based with self-serving technology pre-installed. Customer insights are available in real-time and much more contextual. Even the decision-making processes can be automated in the CDPs. It can also go beyond just marketing in the future with AI-powered self-learning capabilities.
Why is CDP important for Marketing, now more than ever?
To be able to truly personalize customer experiences, data collection is important. Now with so many tools and technology surrounding us, data collection has become easier. Customers are demanding personalization and customization in the products and services they consume, but complying with data security and data privacy regulations is equally important.
A Customer Data Platform is there to separate the data needed for marketing and doing business and the sensitive data of the customers. Such a platform helps in keeping with the regulations of data privacy. A CDP leaves behind parts of data that are absolutely not required for marketing.
Impact of pandemic on the need for a CDP
Due to the onset of the pandemic, everything went digital in an already emerging digital world. More and more businesses went online. Offline customers started migrating to online services. Customer data increased as the number of customers online started increasing. It started becoming more and more difficult for those who did not use a CDP to collect, categorize, structure and analyze the customer data.
How does a Customer Data Platform work?
Think about your buying process. Let us say for instance this was your process:
You google "Best brand of smartphone in 2022"
You get search results and select the second-best smartphone company
You go to the website and start surfing through different options
You select the smartphone of your choice
You checkout and wait for the smartphone to be delivered
Now, what a Customer Data Platform does is keep track of your google search, the websites you surfed, the brands of phones that you looked at, the options you considered, and the buying decision you made. 
This way, the company using the CDP will have a better understanding of the customer preferences and their buying process. They will get structured data of the customers' choice of brands, the options that they are willing to consider in case of product unavailability, the touch points of the customer where they can pitch them new offers, and their buying capacity also.
A CDP will help you consolidate all this data to allow segmentation and personalization of the campaigns. Now, if you are a smartphone company, you can look at the customer data and create a personalized offer for them based on their preferences of the smartphone model.
What are some of the features of a CDP?
Some of the major features of a Customer Data Platform are:
Unification
Identification
Real-time audience segmentation
Customer data analysis
Activation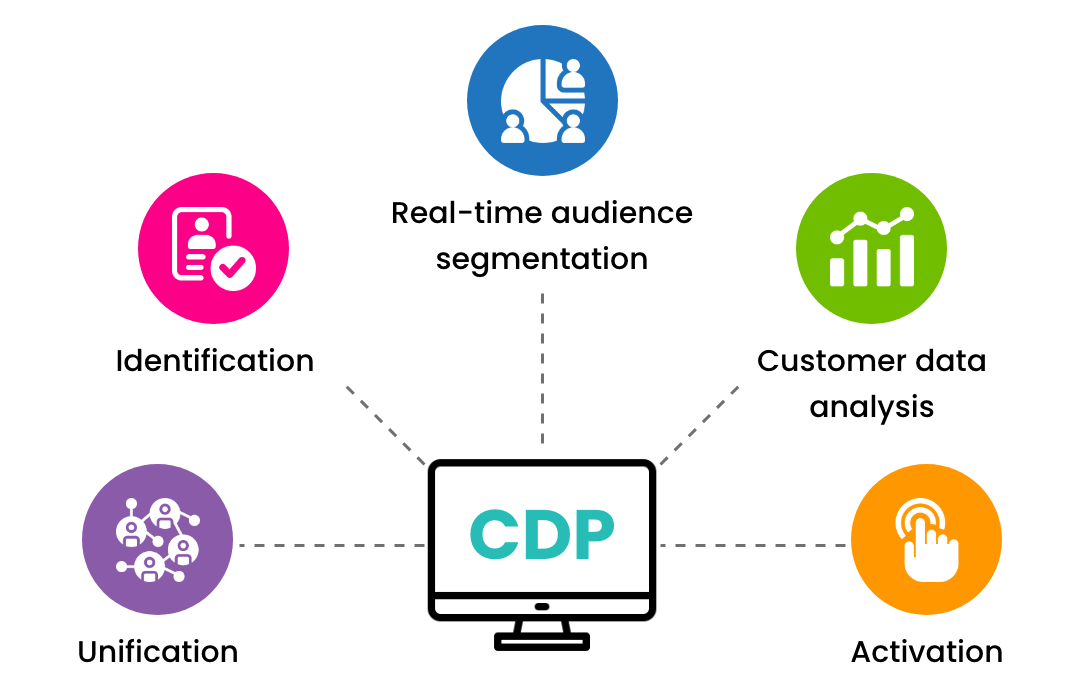 Unification
The first and foremost task of a CDP is to collect data from various sources and input them. The data collected could be:
Behavorial data such as user actions, interactions and engagement on the website or the mobile application.
Demographic details of the customer such as names, addresses, contact details, birthdays, anniversaries, etc.
Transactional data such as purchase history, returns and exchanges, etc.
Metrics from advertising campaigns and channels such as engagement, reach, and impressions.
A CDP uses web tracking tools, marketing automations, data warehouses for unification of all the data.
Identification
Identification means creating a digital identity. Customer identities are created by the CDPs to merge or link the data. A wide range of raw data is unified together to provide a comprehensive view of the customer identities across various channels, devices and systems.
Real-time Audience Segmentation
Through a CDP, you can create different segments of your audience and save them in real-time. It connects your tools and data sources to help you in generating lists or categories based on attributes, events, metrics, etc.
The data that is of no use to the business is separated and specific data that will be most useful for you will be cleansed aside. It segregates the data for easy analysis.
Customer Data Analysis
Once the individual profiles and user identities are ready, the analysis part begins. CDPs offer various integrations with different platforms such as:
Facebook, Google Marketing Platform for Advertising
Google Analytics, Adobe Analytics, Optimizely for Measurements and AB Testing
MailChimp, Sitecore Send, Salesforce Marketing Cloud for Marketing Automation
The availability of integrations varies from platform to platform.
Activation
Once the entire process is completed, your data can be sent to the right channels. Once you have figured out the target audience and their buying patterns, you optimize your marketing, engage with customers with personalized content, understand their needs and create enhanced experiences for them.
Why should you go for Sitecore CDP?
Customer Data Platform Sitecore is one of the most well-known and trusted CDPs. The Sitecore CDP is an advanced customer data platform which combines the data management capabilities of a CDP along with intelligent decision-making, prediction analytics, experimentation and orchestration.
Sitecore CDP unifies and leverages customer data across a variety of touchpoints to deliver exceptional, personalized experiences to the customers, every step of the way. Some of the major benefits of Sitecore Customer Data Platform are:
Holistic customer profile
Real-time segmentation
Data synergy
Audience retargeting
Protection & security
Eliminate the data silos and unprocessed customer profiles. You can capture, identify, unify, process, analyze and activate omnichannel customer data through a Customer Data Platform.