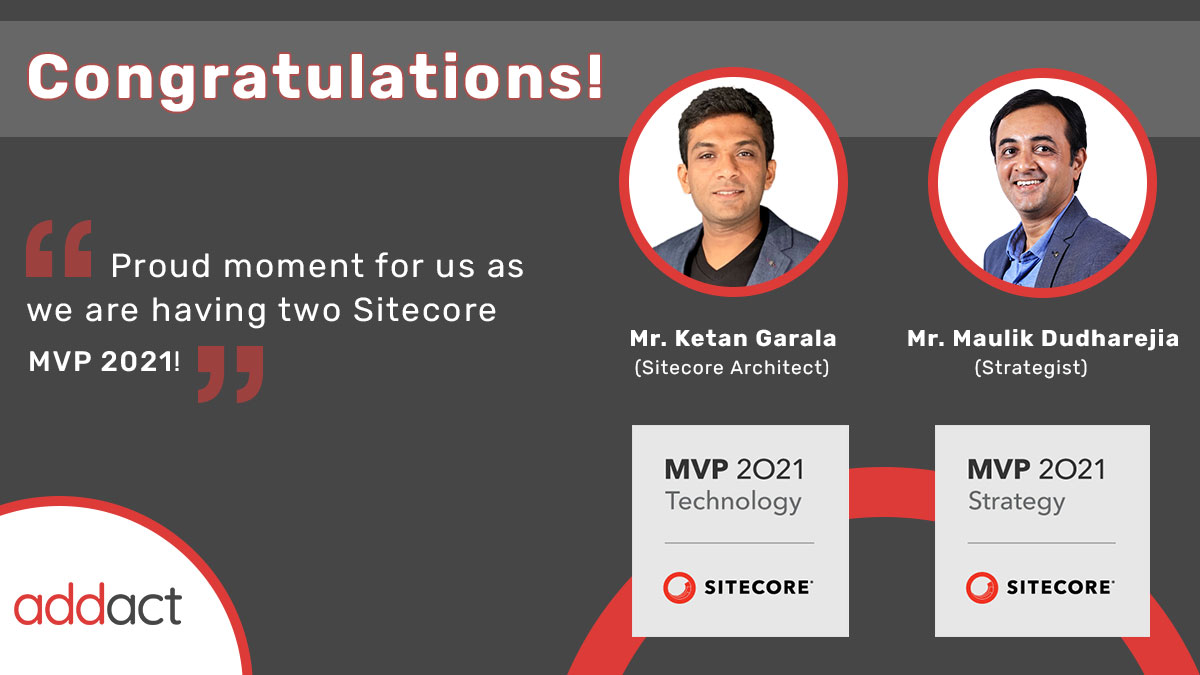 In the MVP program's 15th year, the elite group of professionals are recognized for their dedication to the Sitecore community.
Ahmedabad, Gujarat, India — Jan, 29, 2021 [Addact Technologies Pvt Ltd – We add values] today announced that Mr. Ketan Garala, Architect and Mr. Maulik Dudharejia, Strategist has been named a 2021 Most Valuable Professional (MVP) in the Technology and Strategist by Sitecore®, the global leader in digital experience management software. Ketan Garala is being honoured among only 170 Technology MVPs and Maulik Dudharejia is being honoured among only 33 Strategy MVPs worldwide in the program's 15th year.
Recognizing professionals who deliver outstanding customer experiences through shared expertise on Sitecore's products, the 2021 MVP program draws from a community of 12,000 certified developers and over 20,000 active participants. This year's 284 MVPs contributed invaluable knowledge to the community in 2020 and demonstrated true mastery of the Sitecore platform to support partners, customers and prospects.
A little about Ketan Garala

CTO, Sitecore MVP
Addact is a team of Sitecore certified experts & MVPs is habitual in doing experiments to be innovative and serving best potential output of Sitecore & it's advanced features. Our years of experience helps us to be represent ourselves as one of the most innovative team of Sitecore service provider. We are also known for quick service provider who also helps in saving both time & cost.
– Keyur Garala, Sitecore Architect @ Addact Technologies Pvt Ltd
Addact is exclusively working from last 7 years. During this time our 100% success ration help us to grow vertically. Ketan is a Sitecore certified developer and has more than 15 years' of experience in development to architect. Due to this much experience from start to end he is able to deliver bridge between digital platform to real requirement. He can understand client requirement and make sure that client get 100% leverage from the platform. He is also part of pre-sales and POC work to make sure client get what they want.
Learn more about Maulik Dudharejia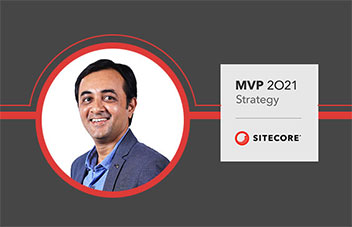 Digital Transformation strategist
Addact is exclusively working on Sitecore and it shows our strong relationship with Sitecore community. We have delivered more than 50+ projects, 25+ B2B partnership with 100% success ratio with the help of qualified, experienced and certified Sitecore Developers and Sitecore MVPs.
– Jayesh Kapadi, CEO @ Addact Technologies Pvt Ltd
Addact has been successful in delivering the best comprehensive end to end Sitecore services towards our clients with the help of Sitecore certified experts' team & Sitecore MVPs since 7 years.
Maulik is Digital Transformation Strategist at Addact Technologies has 12 years of experience with project planning and strategy. He knows how we can make strategy to leverage digital experience platform and make success story. He has strong background in customer experience strategy, program roadmap development and marketing, he is sharing all his experience to Sitecore community through blogs and webinars.
"The 2021 Sitecore MVPs consist of stellar individuals who demonstrated incredible commitment to the Sitecore community during a challenging year which didn't allow for in-person engagement," said Tom De Ridder, CTO of Sitecore. "The 284 MVPs stepped up to the plate to bring critical knowledge and insights for the greater community through virtual channels. We are especially pleased to celebrate this group in the program's 15th year."
More information can be found about the MVP Program on the Sitecore MVP site:
https://mvp.sitecore.com.
About Addact Technologies
Addact Technologies is a Sitecore Service provider and we deliver next-gen digital solutions with optimum Personalization, Automation and Customisation capabilities.
Right from Sitecore implementation to Sitecore integrations and upgrades, Addact has provided comprehensive Sitecore Services with the help of qualified, experienced and certified Sitecore Developers and Sitecore MVP.
– Addact Technologies embarked on the journey of delivering next-gen digital solutions to our clients by catering full-stack Sitecore development services. With resources that were few of the rarest Talents in the Sitecore, Team includes Sitecore MVPs of India with Sitecore Certified Developers and more than 20 skilled Technical Experts catering to global clientele from two fully functional offices in India and Australia.