In this digital era, Sitecore has made an enormous development in the field of digital marketing. It is a leading software that enhances the digital experience.
The platform is powered by .net CMS and advanced digital marketing tools. XP or Sitecore Experience Platform is the premium product of Sitecore.
It also comes with two other powerful effects: CMS or Content Management System and XDB or Sitecore Experience Database.
So if you are engaged in a Sitecore development company as a Sitecore developer, you need to understand more features and advantages of Sitecore. At present, the Sitecore support and maintenance service offers colossal popularity all over the world. Sitecore comes with different advanced facilities that have fetched the digital world a new growth. So, let's check the benefits of Sitecore Software.
Necessary support and services of Sitecore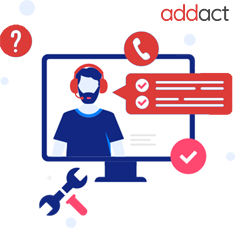 Before understanding the benefits offered by Sitecore, it is necessary to understand the support and services of Sitecore consultants. The Sitecore consultants are the significant parts of the whole CMS are, and they make the required collaboration with the customers. These collaborations fetch necessary and fruitful outcomes for every business organization.
Implementation of this strategy and methodology helps in achieving a successful business goal.
The Sitecore maintenance services and support system is facilitated with advanced feature that keeps the website maintenance process smooth and straightforward. Proper integration is necessary here, and with good integration, it is possible to enhance customers' loyalty and usability. This integration service works great for resolving complications in enterprise content management and integrating web content management.
Every Sitecore consultant and service provider of a Sitecore development company sticks to the standard developed over the years. Additionally, with the help of the advanced Sitecore services, the prime criteria like taxonomy, user adoption, and services will get more concentrated. Here the Sitecore developers focus on sound design, competence, and scalability, to ensure exclusive site Sitecore support and maintenance service.
We can check the benefits of Sitecore both from developers' and marketers' perspectives.
Developer viewpoint
The Sitecore Software comes with the email experience manager feature, which exclusively works to support precise and unique requirements. Developers find that Sitecore ensures in adding advanced features, plugins, and extensions. These lead to immense growth for every business organization. Developers also find this platform extraordinarily cost-effective and straightforward.
Sitecore offers developers excellent features in content management and designing. Sitecore CMS has emerged as one of the most effective tools for developers to access CMS. This software comes with an excellent advantage for the developers as it offers outstanding performance, scalability, security, and administration.
Sitecore developers of every Sitecore company find Sitecore software easy to install. Developers have noticed that Sitecore CMS is a great process to reduce errors and increase speed. The facility has made the tasks of the developers easy in reducing errors and increasing speed.
This software tool offers Visual Studio, an external tool. Developers can enjoy excellent features like integrated tools and code completion enhancement. The Sitecore architecture helps in deployment smooth and straightforward.
Viewpoint of marketers
Sitecore comes with excellent features like EXM and Social Connector Module. These features assist marketers in using the current web content in different channels. It becomes easy for marketers to analyze the data on the website. This feature seems an essential tool to get more understandings about the customers.
Marketers feel that Sitecore features come with real-time personalization, making an easy link with the customers. Customers will receive personalized web content, and this will help in link building with customers.
Sitecore contains the feature EXM and utilizes the scheduling tools. Due to the advanced features, Sitecore helps in reducing for both marketers and content managers.
Other Key Benefits
Another excellent content delivery platform of Sitecore is Sitecore Excellent Edge, enabling marketers to create content smoothly. It also allows content developers to deploy content with the help of Content API.
With the help of Sitecore, it becomes easy for marketers to lower technical dependency. Marketers can create advanced technicalities that can generate minimum technical involvement. The marketers can also install various pages without depending on the developers for the templates. This feature makes users more empowered along with more control.
Sitecore CMS is available with loads of advanced features, and hence you don't need a large team to operate this software. Therefore, it seems cost-effective than
Concluding thought
So, from the above discussion, all can conclude that Sitecore comes with loads of benefits and advanced features. It is an excellent software that helps the website to market fast. The software makes the necessary combination between the content and the variety. It helps to enhance the conversion with the help of personalization.