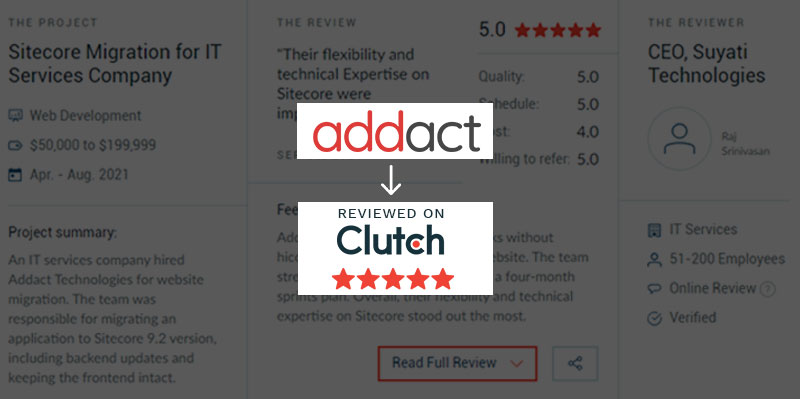 Site migration may sound like an easy task, but the truth is, it's so much more complicated. When transferring your site to another platform, there are many factors to consider, such as how it can affect your search engine visibility, which technologies to use, etc. There are guides to help you understand how site migration works, but having a trusted partner can help you increase your chances of success.
What our client says
Addact Technologies is a trusted provider of Sitecore services. We help website owners shift to Sitecore through solutions that include Sitecore CMS development, Sitecore audit, Sitecore platform integration, Sitecore migration, and more. A team of diverse and specialized developers, Addact Technologies is a passionate service provider that aims to revolutionize the way technologies are built.
It's always an exciting time for us whenever we receive reviews from our clients. For example, this new Clutch feedback will allow us to evaluate our work and improve our services along the way: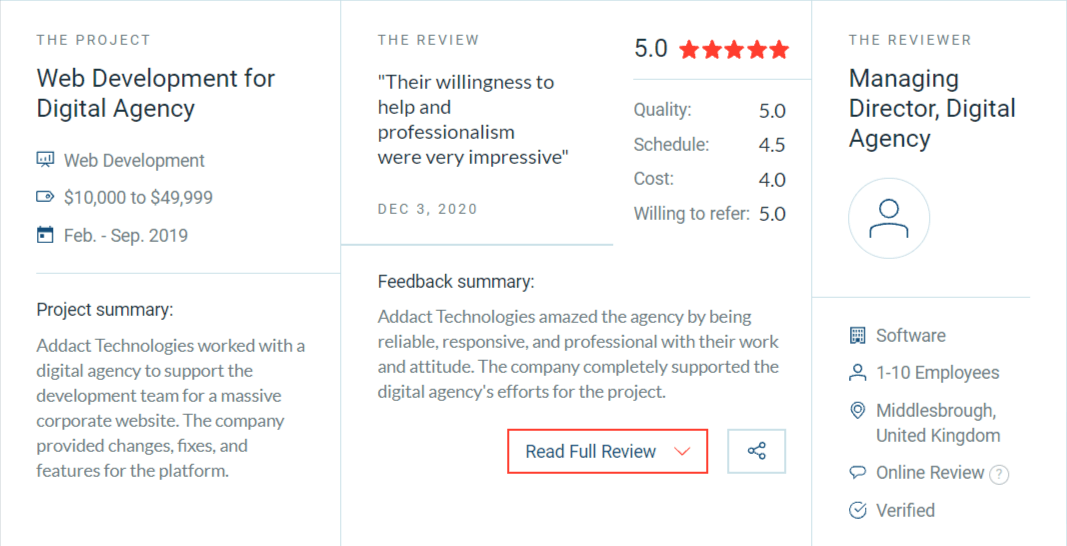 If you don't know, Clutch is an established platform in the heart of Washington, DC, committed to helping small, mid-market, and enterprise businesses identify and connect with the service providers they need to achieve their goals.

Clutch's team of analysts interview service providers' clients to collect client feedback, analyze industry data, and compare competitors in a specific market to arm businesses with the information they need to connect with the right service providers. The platform is invested in publishing in-depth client reviews, data-driven content, and vetted market leaders that businesses can access for free.
Our newest review comes from Suyati Technologies, an IT services company. In April 2021, the client entrusted Addact Technologies with their Sitecore migration project because their existing website has become outdated. In their review, Suyat Technologies discussed the main solution and the results of the project.
"Our application was outdated and needed to migrate to the latest version of Sitecore. An extended team from Addact was part of our project engagement.
The website was seamless and there were no hiccups in production.
Their flexibility and technical expertise on Sitecore were impressive."
- Raj Srinivasan, CEO, Suyati Technologies