We are excited to announce that Mr Ketan Garala – CTO & a Sitecore MVP and Mr Keyur Garala – Sitecore Architect at Addact Technologies have both cleared the SiteCore OrderCloud Certification. Our heartiest congratulations to both of them on this achievement!
Sitecore OrderCloud is an API-first, headless eCommerce platform for B2B, B2C, and B2X that offers limitless customization and endless freedom for growth. It powers custom eCommerce experiences, order management, and B2B marketplace applications.
OrderCloud lets you design a composable, commerce platform that scales with your business. It gives you a completely customized and scalable experience where you can get an existing front-end experience for building a website or an app from scratch. You may also utilize a head start approach which features a selection of pre-configured components to create an online UX for your commerce administration and buyer-supplier experience needs.
B2X organizations can easily manage all commerce operations such as product catalogs, flexible pricing management, view or manage orders, control inventory, or keep track of customer information with built-in tools.
Sitecore OrderCloud Certification enabled us in fundamental knowledge, skills, and abilities in 7 distinct areas as listed below:
OrderCloud Architecture and Conventions
Integration
User Management and Access Control
Environments
Product Management
Order and Fulfillment Management
Troubleshooting
Ketan & Keyur have been working on POC for one of our clients and they were able to achieve product management, flexible pricing management, order process management & order fulfillment, and inventory management. Here is their experience while working & getting certified for OrderCloud.
" OrderCloud is B2B-first commerce and marketplace development platform, OrderCloud delivers cloud-based, API-first, headless eCommerce architecture. Limitless customizations and endless freedom for growth to support your complete commerce strategy. Being a Sitecore experience developer for 15+ years, we were interested to learn more about OrderCloud, and to add it to our offerings, we enrolled in Sitecore OrderCloud Certification. As a pre-requisite, we went through the study guide on the Sitecore learning portal and a lot of practice on the OrderCloud sandbox available on the OrderCloud portal. Following to that we also did a POC for one of our clients. We recommend that you have prior experience with a Sitecore and OrderCloud sandbox prior to enrolling for the certification. "
- Ketan Garala & Keyur Garala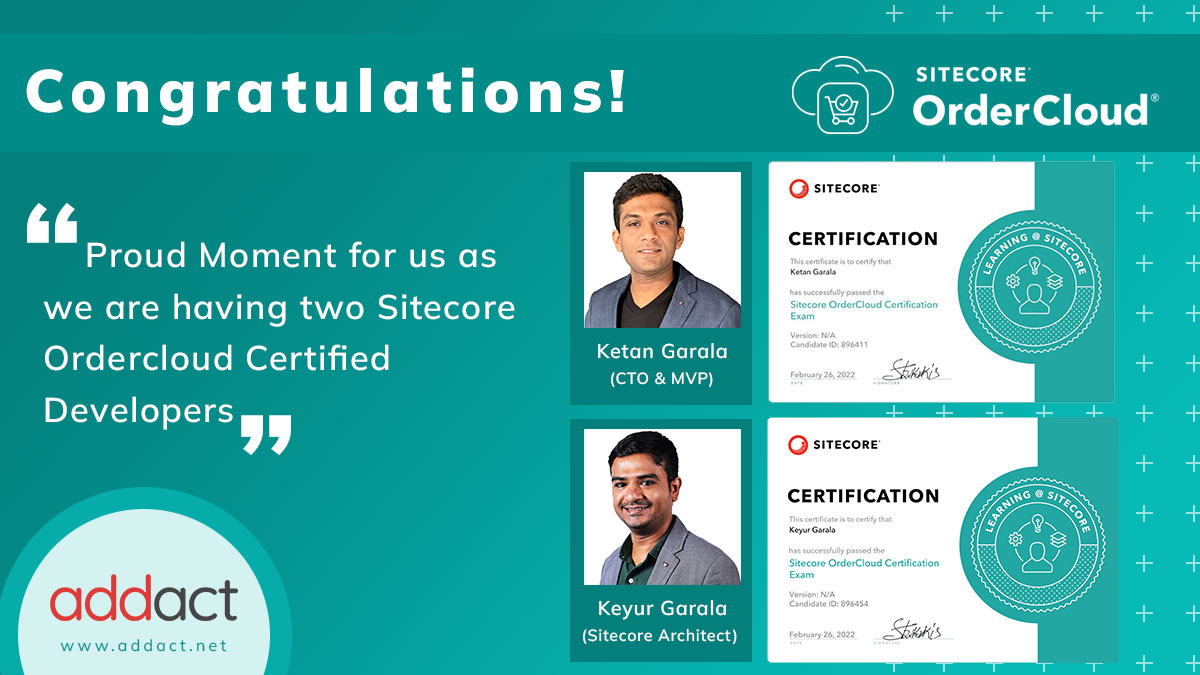 Addact Technologies is a Sitecore Service provider company and exclusively working on Sitecore with a team of 2 Sitecore MVPs, 20+ Sitecore experts, practicing Sitecore for 8+ years. We provide Sitecore consulting service no matter what stage you are at in your digital journey.
Our services include Sitecore Implementation, CMS Development, Digital Experience Platform Development, Module Development, Managed Service, Infrastructure support, Maintenance & 24/7 support, Integration, upgrade, and anything surrounding Sitecore.
Now, having two resources with Sitecore OrderCloud Certification in our team, Addact will be able to provide OrderCloud implementation along with the customization as per your current business needs with scalability for future needs to manage your commerce operations.
Elevate your commerce business operations with a tailored digital commerce platform and streamlined order-management processes. You determine your commerce platform's capabilities — instead of having it determine yours.
Link to the certificates:
Ketan Garala: https://bit.ly/3pqmIUm
Keyur Garala: https://bit.ly/35bO9L7