Elite distinction awarded for commitment and dedication to the Sitecore community
Ahmedabad, Gujarat/India — February, 01, 2022 Addact Technologies, today announced that Maulik Dudharejia, Strategist has been named a Most Valuable Professional (MVP) in the Strategy by Sitecore®, the global leader in digital experience management software. Maulik Dudharejia was one of only 31 Strategy MVPs worldwide to be named a Sitecore MVP this year.
Recognizing professionals within the Sitecore community who actively apply their talent and expertise to help others best utilize Sitecore products to deliver premier customer experiences, the MVP program is now in its 16th year. Of more than 16,000 certified developers and over 30,000 active community participants, the 235 MVPs are truly an elite group.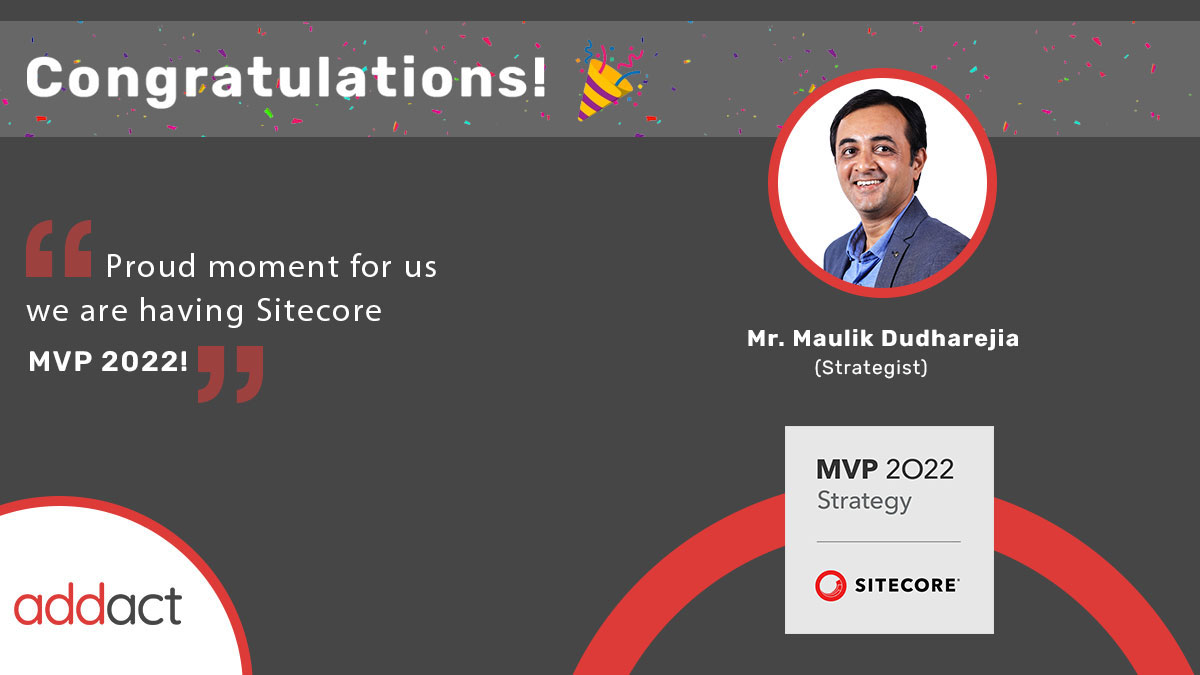 This year's MVPs were selected for the quality, quantity and impact of the contributions they made in 2021, including the sharing of product expertise and mastery of the Sitecore platform to support both partners and customers.
Addact is exclusively working on Sitecore from last 8 years, it is strongly connected with Sitecore as an affiliate partner and it also shows our strong relationship with Sitecore community. Maulik Dudharejia as a digital strategist having strong background in strategy making, program roadmap development and marketing, and it is bringing a maximum levarge of digital experience platform and through this we can achieve good ROI for our client and create a 100% success ratio.
- Jayesh Kapadi (CEO at Addact)
During this timespan of 8 years our 100% success ration help us to grow vertically, Addact is a team of Sitecore certified experts & MVPs is habitual in doing experiments to be innovative and serving best potential output of Sitecore & it's advanced features. Our years of experience helps us to be represent ourselves as one of the most innovative team of Sitecore service provider. We are also known for quick service provider who also helps in saving both time & cost. We have delivered more than 55+ projects, 30+ B2B partnership with 100% success ratio with the help of qualified, experienced, certified Sitecore Developers and Sitecore MVPs and Sitecore community contributor. Maulik is Digital Strategist at Addact Technologies has 12 years of experience with project planning and strategy. He knows how we can make strategy to leverage digital experience platform and make success story. He has strong background in customer experience strategy, program roadmap development and marketing, he is sharing all his experience to Sitecore community through blogs and webinars.
"The Sitecore community is one of our greatest assets. It's a highly collaborative environment where members freely share their knowledge and insights across numerous channels and at events," said Dave O'Flanagan, Sitecore chief product officer. "Sitecore MVPs stand out as community leaders who are dedicated to helping others build greater digital experiences for their organizations and customers. They are an invaluable resource and important part of the Sitecore user experience, for which we are truly grateful."
More information can be found about the MVP Program on the Sitecore MVP site: https://mvp.sitecore.com.
About Addact:
We are a tech consulting company working exclusively on Sitecore since 8+ years. We have a team of 2 Sitecore MVPs, 8+ Sitecore Certified Developers and 10+ Sitecore experts. Our services includes Sitecore CMS Implementation, Development, Audit, 24x7 Support, Managed Service and everything surrounding Sitecore.