An elite distinction awarded for commitment and dedication to the Sitecore Community
Ahmedabad, Gujarat, India – February 01, 2023, Addact Technologies is proud to announce that Maulik Dudharejia, Ketan Garala and Keyur Garala have been named among the Most Valuable Professionals in the Strategy, Ambassador, and Technology categories respectively by Sitecore® , a global leader in end-to-end digital experience management software.
Maulik Dudharejia was one of the 30 Strategy MVPs worldwide to be named a Sitecore MVP this year.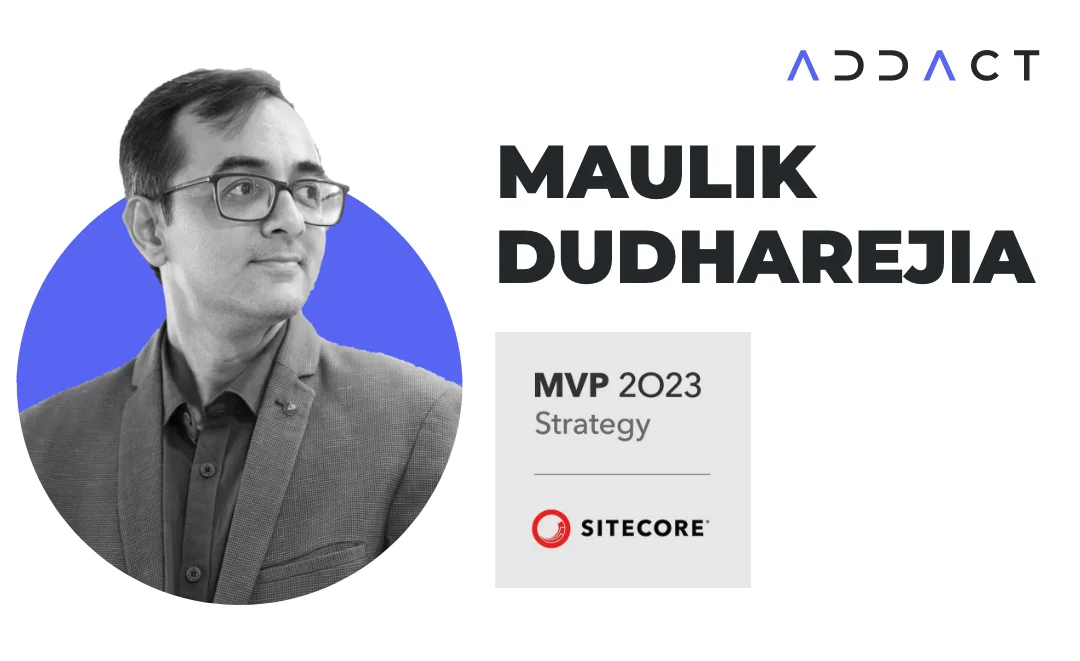 It was a year filled with intelligent conversations and a lot of learning about so many different products that Sitecore came up with. Discussing it with the community and exchanging ideas, views as well as sharing my own knowledge was a very fulfilling experience overall.
- Maulik Dudharejia, Digital Transformation Strategist - Addact Technologies
Ketan Garala was one of the 74 Ambassadors worldwide to be named a Sitecore MVP this year. Ketan has been a Sitecore MVP 3 times before this and we are so proud to see him achieving this for the 4th time in a row.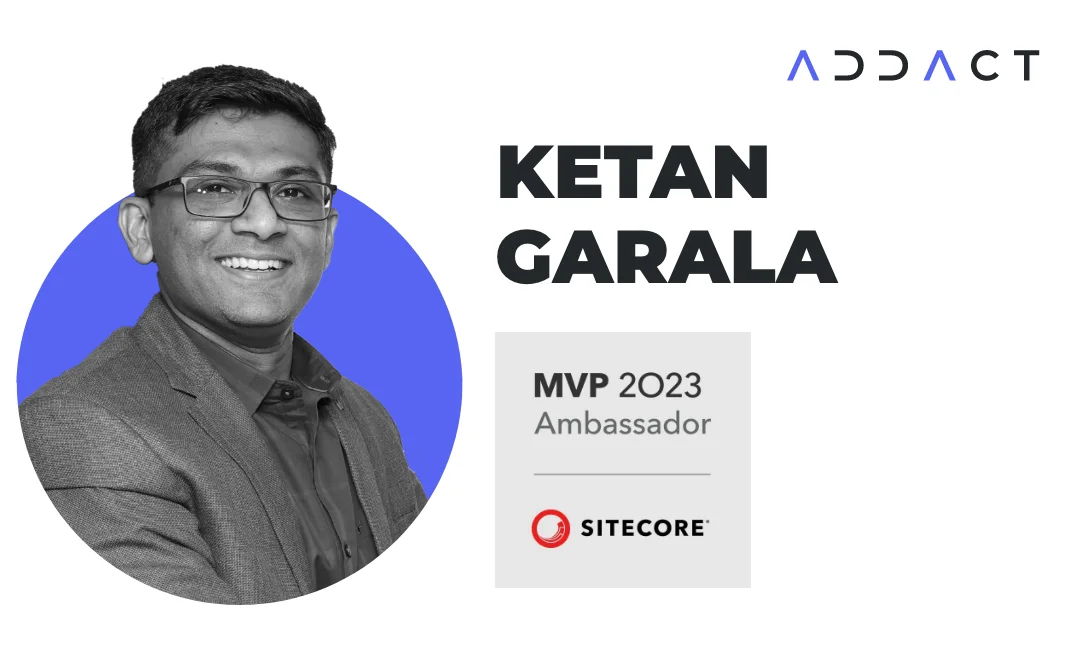 4 times in itself is a huge achievement for me. I can see a lot of advancements already happening in the coming future and we are so looking forward to it. Having worked exclusively on Sitecore for almost a decade, it has been an honor and a privilege to be able to serve the Sitecore Community.
- Ketan Garala, CTO - Addact Technologies
And, Keyur Garala was one of the 137 Technology MVPs worldwide to be named a Sitecore MVP this year. This was his first Sitecore MVP award and a momentous occasion for us at Addact.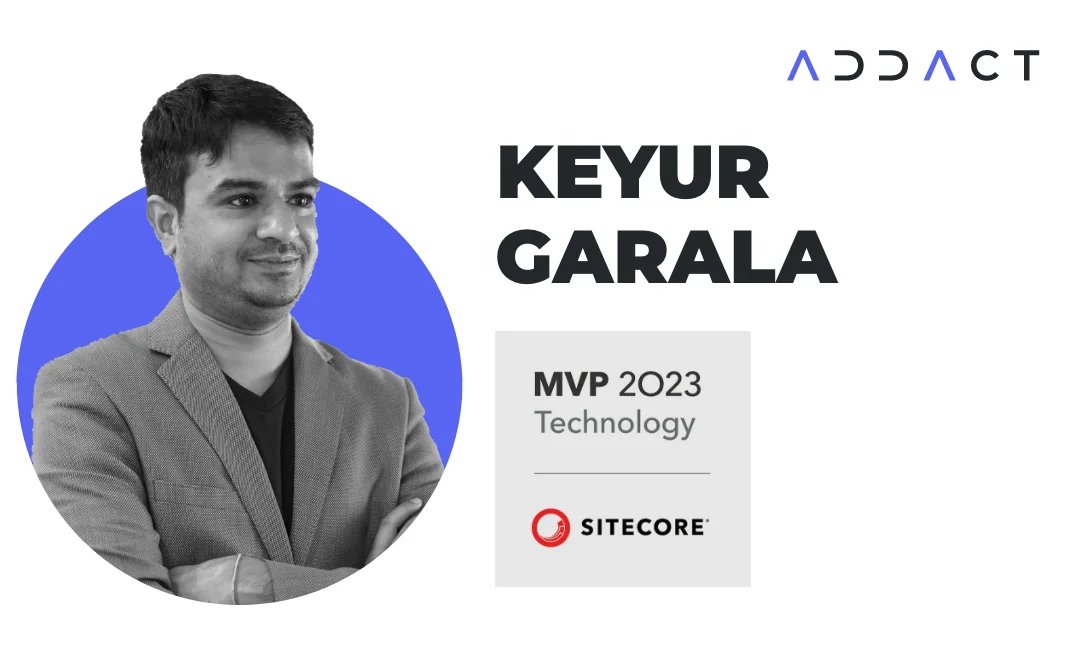 I love working with technologies and being recognized in the same category is something that I will always be proud of. I have learned a great deal from the Sitecore community and being a part of it feels surreal. This was my first MVP award but I look forward to continue adding value to the community and contribute the best of my knowledge.
- Keyur Garala, Sitecore Certified Solutions Architect - Addact Technologies
Now in its 17th year, the MVP program recognizes professionals who actively share their fascination, knowledge and expertise with online and offline Sitecore communities to help them best utilize Sitecore products to deliver premier customer experiences.
Selected out of more than 16,000 certified developers and over 30,000 active community participants, the 241 MVPs are truly an elite group. This year's MVPs were selected by a panel of Sitecore employees for the quality, quantity and impact of the contributions they made in 2022, including the sharing of product expertise and advanced knowledge of the Sitecore platform to support both partners and customers.
We have been working exclusively on Sitecore for almost a better part of the decade now. This MVP recognition is just a cherry on the top for us. Having an MVP each in the categories of Technology and Strategy and also having a recognized Sitecore MVP Ambassador. This is going to increase the credibility and strengthen our bond with the relationships that we have fostered in the industry over the years.
- Jayesh Kapadi, CEO - Addact Technologies
Addact Technologies is a Sitecore Service Provider delivering high-quality, and remarkable Sitecore solutions. We have been exclusively working on Sitecore since our inception in 2014 and for almost a decade have delivered exceptional solutions to all our clients.
Our top services include Sitecore Development, Sitecore OrderCloud, Sitecore CMS Development, Sitecore Platform Integration, Sitecore Platform Upgrade, Sitecore Managed Services among a varied range of Sitecore offerings. Our capabilities have allowed us to offer custom solutions to our clients in order to help them optimize their businesses or bring about digital transformation for a better customer experience.
Our MVPs have contributed significantly to the community by delivering sessions and sharing knowledge related to Sitecore products and services. We are extremely proud of all the hard work they put in every day and these MVP awards are the recognition and true testament of how we are achieving our goals and vision.
"We're pleased that for the seventeenth time we're honoring experts who have distinguished themselves through their technical acumen and dedication to helping others build great digital experiences," said Dave O'Flanagan, Sitecore Chief Product Officer. "We continue to be impressed by the passion with which the MVPs share their professional and technical expertise and experience with customers and partners. They're an invaluable asset to the global Sitecore community, and we're truly grateful for their unique contributions."
More information about the MVP Program can be found on the Sitecore MVP site: http://mvp.sitecore.com.
About Addact
We are a software solutions company working exclusively on Sitecore with an experience of over 9 years. "We add values" is our tagline and we believe in bringing innovations and digital transformation to the industry through our Sitecore solutions.