We are very pleased to announce that Addact now has an entire team certified for Sitecore OrderCloud. Our sincerest compliments and congratulations to Mr. Ketan Garala (CTO & Sitecore MVP), Mr. Keyur Garala (Sitecore Solutions Architect), Mr. Mitesh Patel (Project Manager), Mr Keyur Nayi (Sitecore Lead Developer), and Mr. Him Bhavsar (Sitecore Web Developer).
Sitecore OrderCloud is an API-first, headless cloud platform for B2B, B2C, B2X business models with limitless offerings and customizations for growth. It powers your marketplace applications, and helps in customizing eCommerce experiences along with order management.
Some of the major offerings and benefits of Sitecore OrderCloud are:
API-first Platform
Headless Architecture
World-class Security
Cloud-native Infrastructure
Microservices of the best breed
B2X organizations can easily manage all commerce operations such as product catalogs, flexible pricing management, view or manage orders, control inventory, or keep track of customer information with built-in tools.
The Sitecore OrderCloud Certification enables our team in the fundamental knowledge and abilities in 7 distinct areas such as:
OrderCloud Architecture and Conventions
Integration
User Management and Access Control
Environment
Product Management
Order and Fulfillment Management
Troubleshooting
"I am extremely grateful to Mr Keyur Garala for guiding me every step of the way and helping me achieve this certification."
- Mitesh Patel
"I want to thank Mr Ketan Garala for mentoring me and providing me with this opportunity to upskill myself."
- Keyur Nayi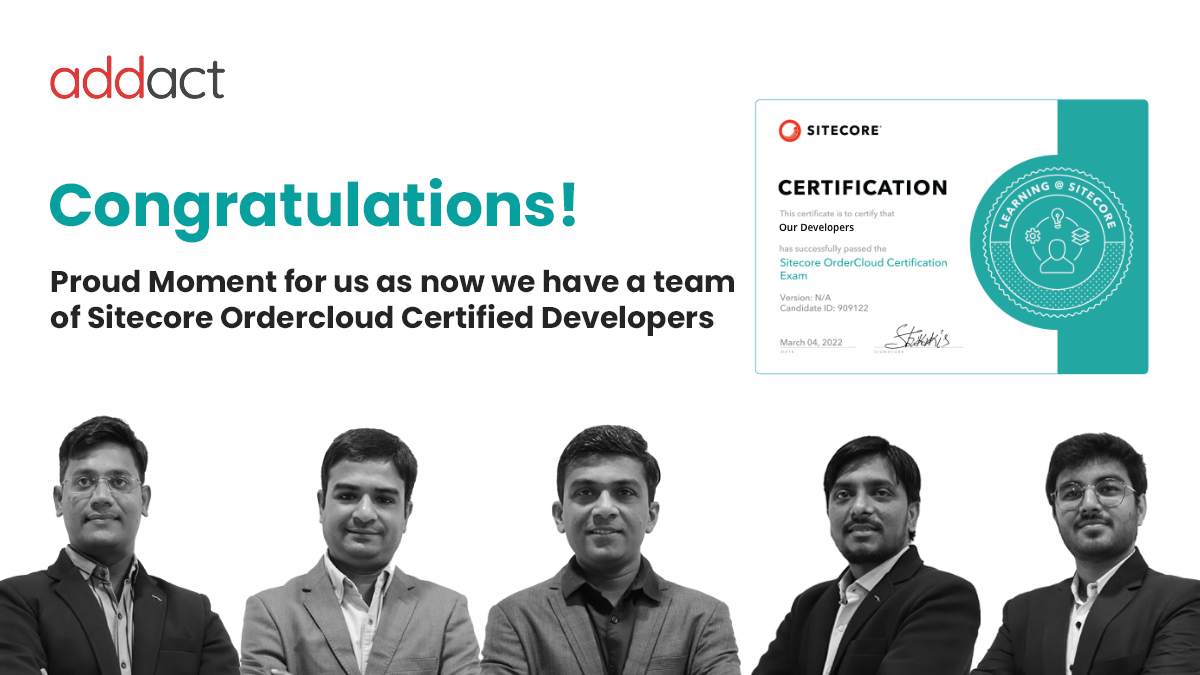 "It is important to always keep learning and gaining more skills and the entire senior team of Addact has been supportive and helpful in my journey of achieving Sitecore OrderCloud Certification!"
- Him Bhavsar
Addact Technologies is a Sitecore Service Provider company exclusively working on Sitecore with a team of Sitecore MVPs, 20+ Sitecore Experts, now also with a team certified of Sitecore OrderCloud Certification and a combined practicing Sitecore experience of over 8 years.
No matter at what stage you are in your digital journey, we provide expert Sitecore Consulting. Our services include Sitecore Implementation, CMS Development, Digital Experience Platform Development, Module Development, Managed Services, Infrastructure Support & 24x7 Maintenance, Integrations and anything surrounding Sitecore.
Having a Sitecore OrderCloud Certified team of experts, we will be able to provide OrderCloud Implementation along with complete customization for your business along with scalability adjustments for your future business needs. You can manage your commerce operations all at one place.
Streamline your order-management processes and uplift your commerce business operations with a tailored, custom-made digital platform.